1. What Is Your Current Growth Strategy?
Firstly, it's vital to establish your current business growth strategy to understand where you are positioning yourself in the market, and who you need to attract to your talent pipeline to facilitate your business goals.
Are you planning on significant investments? Are you considering a geographical move? Are you thinking about a different service offer?
The answers to these questions will enable you to define the type of candidate you wish to attract to your pipeline.
2. Establish Your Ideal Candidate
Secondly, establish the essential attributes of your ideal candidate.
Remember that it's not only about qualifications and skills. More and more, companies are using personality as the ideal building block for developing pipelines. Psychometric Assessment is utilised by many employers to measure character, ability, competence and motivation at work, in a scientific and unbiased way.
After all, skills can be taught – but attitude, enthusiasm and philosophy tend to be inherent characteristics.
Additionally, and contrary to popular belief – you can include in your pipeline current employees who have the potential for growth, in addition to external candidates (more on this later).
3. Invest in Company Culture
Company culture attracts top talent: fact.
A CNCB workplace study confirmed that 56% of employees valued an excellent company culture fit over salary.
So, the next critical step is to get your company culture right, to promote growth and offer an attractive package to would-be employees.
Keep in mind that diversity and inclusion play a significant role in attracting a better calibre of candidate. By developing a culture in your business that sees employees engaged and happy, and where they feel respected and valued, you will encourage top talent to want to work for you too.
Once you have defined your company culture and established your ideal candidate, you are now ready to start building your supply chain and logistics talent pipeline.
4. Keep Your Search Options Open
When you are looking for talent, whether you are based in Ireland or Vietnam, think globally. There is a wealth of expertise out there, who are looking for opportunities with a company just like yours.
Have you considered your remuneration packages for overseas employees – is it generous? Will it appeal to the top talent you are looking to encourage into your pipeline?
We've already touched on your current employees, and I would recommend you consider including your own ambitious and current skilled staff in your pipeline.
The advantages of having current workers in your supply chain and logistics talent pipeline are apparent – they already work for you and are therefore familiar with the company culture and goals. You can nurture prospective future leaders with training and development, so they are ready when the right vacancy arises.
Additionally, it's not just about including existing employees and the current talent in the marketplace.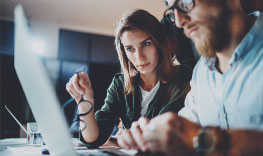 Intrigued? Let's talk
To find out how our tried, tested and trusted insight and innovation can deliver you the brightest sales and marketingtalent call
01905 814199 or email info@martinveasey.com.
How are you addressing strategies in your talent pipeline that target those in the early stages of their career, such as graduates or apprentices?
Although I see many companies dismiss graduates and apprentices as having too little real-world experience - with the right investment in their career path, they can grow with your company and prove to be a valuable asset.
So, do you have an excellent graduate or apprenticeship scheme? If not, is it time to implement one?
5. Maintain Your Relationships
As a recruiter, I know it's the ideal scenario to have several great candidates apply for each job role.
Perhaps you interview a candidate who does not precisely match the specific role that you have at that moment, but who might be perfect for a future opportunity.
This is an ideal way to build your supply chain and logistics talent pipeline. Even if you are not able to offer a candidate a current position, keeping in touch with them creates a relationship for future possibilities.
This could be by adding them to a database (remember to follow GDPR guidelines) or by encouraging them to follow you on social media. This way, when you have another vacant position that would suit them perfectly, you can get in touch quickly with an interview offer.
6. Work With a Specialist Recruiter
Finally, if you need expert help and advice on building your supply chain and logistics talent pipeline, you could consider working with a specialist recruiter.
Martin Veasey are experienced recruiters in the UK and international executive recruitment marketplace, with extensive supply chain and logistics sector knowledge enabling them to help clients build long-standing relationships with ideal candidates.
Thanks,
Roheela
About Martin Veasey Talent Solutions
At Martin Veasey, we have been working with blue-chip and SME businesses for over 35 years, both in the UK and around the world.
We are an independent consultancy company with highly qualified staff, including many degree and Masters educated consultants, with memberships of professional bodies such as the Chartered Institute of Personnel and Development and the British Psychological Society.
We have unique expertise in hiring for senior roles in Board & Senior, Supply chain & Logistics, Purchasing & Procurement, Manufacturing & Engineering, Pharmaceutical & Life Sciences, Sales & Marketing, Human Resources, plus many more.
If you are looking to work with a highly accomplished recruiting partner, you can call us on 01905381320 or get in contact today.