What is Supply Chain Management (SCM)?
In simple terms, it's handling the whole flow of goods from the raw material stage through to final delivery to the customer.
Although it sounds straightforward, supply chain management is one of the most complex disciplines in modern industry. A successful supply chain professional employs a wide range of skills and abilities to be effective in their role.
You'll need overall business management and leadership skills, as well as a sound knowledge of manufacturing processes and transportation methods.
Very often, you'll be juggling both customer and supplier requirements, so being able to communicate effectively and confidently at various levels is another crucial skill.
The Core Divisions
With SCM being such a large subject, it's easier to break it down into its core divisions, which are:
Planning
Procurement
Logistics
What is Supply Chain Planning (SCP)?
SCP involves breaking down each part of the process needed to take a raw material through to a finished product.
It sub-divides into the following four categories:
Demand Planning – Forecasting or predicting the future volumes of a product the customer will require. Once the demand level is determined, the demand planners will work out how much stock needs allocating within each stage of the system.
Supply Planning – Taking the demand plan and calculating how best to achieve the supply of volumes required.
Production Planning – Allocating resources (people and machinery) to produce the amounts of products required.
Sales & Operations Planning (S&OP) – Brings together all the plans for each department of the business (sales, purchasing, manufacturing etc.) into one integrated program.
As you can see, each of these sectors requires specific roles and skills.
Typical positions and approximate average salaries within Supply Chain Planning include:
| | |
| --- | --- |
| Production Manager | £64,000 |
| Production Control Manager | £55,000 |
| Production Controller | £38,000 |
| Senior Materials Planner | £37,000 |
| Senior Production Planner | £35,000 |
| Demand Planner | £35,000 |
| Production Planner | £35,000 |
| Materials Planner | £32,000 |
| Transport Planner | £29,000 |
What is Procurement and Purchasing?
Very often (and incorrectly), the two terms are used interchangeably. Procurement is the strategic activity that involves sourcing suppliers to provide the products a company needs to fulfil its objectives. The procurement team will carry out supplier assessments, negotiate terms and create the structure required by the purchasing team. The procurement team's focus is on delivering value, which is not the same as finding the cheapest supplier.
Purchasing is the act of placing orders and managing incoming products. The purchasing department is responsible for the company's spend on raw materials or sub-assemblies in line with the terms agreed. They carry out the day-to-day management of suppliers and focus on price more than value.
In some respects, you could view procurement as a proactive process and purchasing as a reactive one. Depending on the company's size, these roles could be carried out by the same individual, but they tend to be divided among a procurement and purchasing team.
Typical positions and approximate average salaries in Procurement include: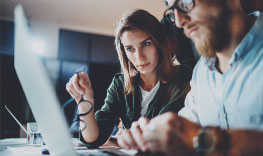 Intrigued? Let's talk
To find out how our tried, tested and trusted insight and innovation can deliver you the brightest sales and marketingtalent call
01905 814199 or email info@martinveasey.com.
| | |
| --- | --- |
| Procurement Director | £75,000 |
| Head of Procurement | £64,000 |
| Sr Procurement Manager | £56,000 |
| Procurement Manager | £52,000 |
| Commodity Manager | £47,000 |
| Senior Buyer | £42,000 |
| Buyer | £35,000 |
| Junior Buyer | £22,000 |
| Procurement Assistant | £22,000 |
What is Logistics?
Logistics is how raw materials, sub-assemblies, and finished goods are stored and transported along the supply chain.
Logistics management involves the physical transporting of goods (distribution) via land, sea, and air freight. And it also includes inventory management, making sure that each element of the supply chain has sufficient stock to fulfil its needs. For example, a supermarket displays a small amount of stock on the shelves. This stock is replenished from its internal stores, which is then filled from a regional warehouse, then a national warehouse then the suppliers. It is incredible to think that when a shopper removes a tin of beans from the supermarket shelf, a whole sequence of logistical activities is triggered.
Typical roles and approximate average salaries in Logistics include:
| | |
| --- | --- |
| Logistics Manager | £50,000 |
| Warehouse Operations Manager | £45,000 |
| Warehouse Project Manager | £45,000 |
| Transport Manager | £36,000 |
| Warehouse Manager | £45,000 |
| Warehouse Shift Manager | £37,000 |
| Transport Planner | £29,000 |
| Depot Manager | £33,000 |
Finally, the executive-level supply chain roles and approximate average salaries include:
| | |
| --- | --- |
| VP Supply Chain | £110,000 |
| Supply Chain Director | £83,000 |
| Supply Chain Manager | £55,000 |
| Materials Manager | £48,000 |
As you can see, Supply Chain Management offers a wide variety of roles for a broad scope of skillsets.
About Martin Veasey Talent Solutions
The Secret to your Success is Hiring Exceptional Talent. Our Talent is helping you find it.
A 35-year track record successfully recruiting for blue-chip and SME businesses both in the UK and Internationally.
Essentially, we match exceptional talent with excellent jobs. We have a reputation for proactively finding and placing hard to reach talent into our clients' businesses.
Martin Veasey Talent Solutions has unique expertise in hiring managerial, professional, technical, functional specialists and senior executive roles, including complete teams both in the UK and internationally.
We place a strong emphasis on developing partnerships that enable us to get to know your business objectives, challenges, and specific requirements.
We then create a tailored campaign that delivers the best talent to add value and become an integral part of your business growth and success.
We have invested in State of Art recruitment technology to ensure that we can always source the best talent, both passive and active, for our clients' key roles.
Our Recruitment Solutions division is complemented by our Talent Management Solutions division, which offers talent strategy planning, psychometric testing and executive coaching.
Business Sectors: Board & Senior, Supply Chain & Logistics, Purchasing, Manufacturing & Engineering, FMCG & Retail, Pharma & Life Sciences, Sales & Marketing, Human Resources, Construction & Civils, Interim Executives
Divisions: Recruitment Solutions & Talent Management Solutions
So, if you are looking to work with a highly accomplished recruiting partner, please call us on 01905381320 or  get in contact today.