Marketing & Design Assistant
"Fantastic career development opportunity for a high potential graduate digital marketing specialist keen to progress within a high growth business."
£24-28000(DOE) Bonus Excellent Benefits
Northampton (On Site)
Commutable from Northampton, Kettering, Milton Keynes, Bedford, Market Harborough, Towcester, Banbury, Daventry, Moulton, Crick, Wellingborough, Stony Stratford, Newport Pagnell, Rothwell, Desborough, Rugby
Are you a marketing superstar with a passion for generating inbound leads? Our client, a leading commercial asset finance broker and lender in Northampton is seeking a Marketing & Design Assistant to join their fast-paced and dynamic team.
In this great career development role, you'll be at the heart of the company's inbound lead generation efforts, crafting compelling content and executing campaigns that drive sales and empower their sales team.
As a Marketing & Design Assistant, you will work with the Head of Marketing and Senior Marketing & Design Executive, writing engaging social media posts and SEO-friendly and attention-grabbing articles. You'll also develop and execute email marketing campaigns that generate leads and represent the company at industry events, liaising with stakeholders and building relationships with potential clients. Additionally, you can design and launch captivating landing pages for targeted campaigns and conduct extensive keyword research to refine and optimise marketing strategies.
We want to hear from you if you're a dynamic and driven individual with a relevant degree and at least 1-3 years prior experience in a B2B lead generation role. Additionally, you should be proficient in Adobe Illustrator and Photoshop and be located within commuting distance from Northampton. This is an onsite role 5 days per week in the office. Hybrid working is not offered for this career development role.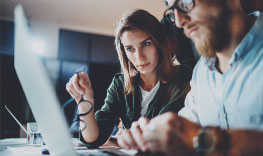 This is a fantastic opportunity to join a growing and vibrant business where you'll have the chance to make a real impact and take your marketing career to the next level.
So, if you're eager to take on this role and make a meaningful impact on the world of finance, don't miss out! Apply now to become an integral part of our client's bustling firm.
Simply email your CV, quoting reference LX 1370538 to or call us on 01905 381 320.